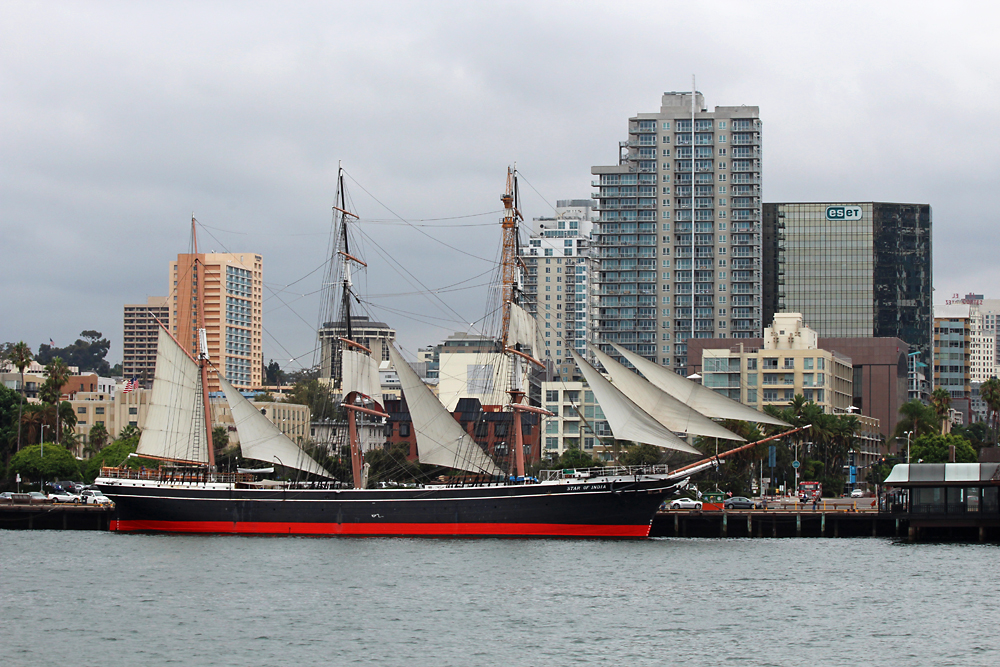 Read Time:
1 Minute, 26 Second
The Star of India was built in 1863 at Ramsey in the Isle of Man. She was first known as Euterpe, the muse of music. This full-rigged iron windjammer ship made excursions between Great Britain and India and then to New Zealand. She was later used to haul salmon from Alaska to California. The ship was retired in 1926, but restored in 1962-63.
The Star of India is the oldest ship still sailing regularly and is also the oldest iron-hulled merchant ship still on the water. The Star of India has been designated a California Historical Landmark as well as a United States National Historic Landmark.
Although you can visit the Star of India as part of the Maritime Museum of San Diego, you'll have a difficult time getting a photograph of the entire ship unless you are on a boat in San Diego Harbor. We recommend the Hornblower tour, which allows you to get wonderful photos of the San Diego Skyline, the USS Midway Museum, and the Maritime Museum.
You can also get wonderful detail shots of the ship by walking along the harbor. With sunny conditions, we'd recommend shooting in the morning from the landside, and in the afternoon from the water.
You'll want a relatively long lens – we shot most of our photos with a 70-300mm lens. The final image was taken at 30mm.